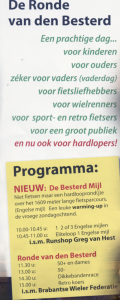 Op 17 juni 2018 (Vaderdag) organiseert Runshop Greg van Hest in samenwerking met  de organisatie van de wielerronde van den Besterd de 'Besterd Mijl'. Dit is een nieuw loopevenement voorafgaande aan de wielerronde van den Besterd (start wielerronde 11.30 uur).
Het startschot voor de recreanten is om 10.00 uur en er kan een, twee of drie mijl (een mijl is 1609 m.) gelopen worden. Qua afstand is het voor iedereen te doen, en je kunt tijdens het lopen beslissen of je gaat voor 1 mijl of doorloopt voor de langere afstand.
Het is een wedstrijd vooral gericht op het recreatief lopen en na afloop is er voor iedere deelnemer een mooie tastbare herinnering.Voor de 'Elite Mile' deelnemers klinkt om 10.45 uur het startschot. Uiteraard zijn supporters (familie, vrienden, fans) ook van Harte uitgenodigd om iedereen aan te moedigen.
Het beloofd een gezellig evenement te worden want op het Besterdplein zijn tal van activiteiten, ook voor de jeugd. Inschrijfgeld is €3,00 bij voorinschrijving (tot vrijdag 15 juni) en €5,00 bij na-inschrijving op de dag zelf. Inschrijven (tot vrijdag 15 juni) bij Runshop Greg van Hest, Wilhelminapark 43.
Leden van Loopgroep fysiotherapie Tilburg Reeshof en de deelnemers van Yakult Start to Run in de Reeshof, kunnen zich voor/na de trainingen (tot dinsdag 12 juni) opgeven bij Harran of Joop en het inschrijfgeld aan hen voldoen.
Zij zullen zorgen dat iedereen die zich dan heeft aangemeld ook ingeschreven wordt en dat de startnummers op tijd opgehaald worden, zodat we dat op de dag zelf niet meer hoeven te doen.